Whiteboards are excellent to use as a planning tool, for creating schedules as well as allowing you to explore your creativity, brainstorm ideas and collaborate with colleagues. Designed to boost creativity and productivity, whiteboards are a must for any business, home, and office. Let's know How A smart whiteboard Wall Will Make Your Meetings More Productive.
However, whiteboards have their drawbacks, they are often small, meaning you cannot express all of your ideas, without frustratingly erasing your previous thoughts. Whiteboards can also get messy, as you seek out any available writing space, you lose the flow of the work and thoughts seem to become incoherent. By painting a whiteboard wall, you can maximize all of the space to brainstorm, doodle and plan your ideas without any of the restrictions of a whiteboard.
Whiteboards walls are a fantastic way to boost meeting productivity and assist with collaborative tasks. Read on to find out how a whiteboard wall will boost your meetings and make them more enjoyable for everyone.
Why Is A Whiteboard Wall Better Than A Whiteboard?
There are so many reasons why it is more beneficial to choose a whiteboard wall over a whiteboard. To start with, whiteboards are restricted to certain shapes and sizes, making it difficult to find the perfect shape and size for you, and if you opt for a customized size, you are likely to have to pay a premium.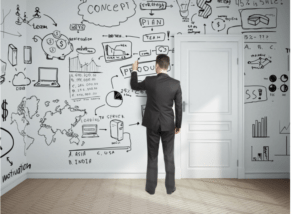 Whiteboard walls can be applied to any smooth, painted surface, unlike whiteboards that need to be drilled and safely secured onto surfaces which can take time, effort and reinforcement. Whiteboard walls are just a coating to your wall; lightweight and easily applied.
ReMARKable Coating offers two types of whiteboard solution to suit every need; you can create a white or a clear coating so that your doodling board can be any color you want. Clear coating is excellent if you want to align your whiteboard with your company's branding colors or just want a fresh, new look away from traditional whiteboards.
If you are feeling creative, you can customize the shape of the whiteboard coating to design it in the shape of your company logo or a stylish pattern. However you want to be inventive with your meeting rooms, you can with ReMARKable. If not, go wild with the whiteboard coating and create the biggest whiteboard that fits your space perfectly, whether this is in an office, a bedroom or a meeting room, you can create a whiteboard wall wherever you need it.
How To Create Your Perfect Whiteboard Wall
With ReMARKable coating, it is easy and hassle-free to create a whiteboard wall with whatever space you have. In fact, it takes just four simple steps;
Step 1: Choose Your Whiteboard Space
Find the space which will be most beneficial as a whiteboard and truly use your imagination. ReMARKable can be applied to any painted surface so you can transform drywall, plaster, metal and tile into a dry-erase surface.
Step 2: Decide A Color
ReMARKable offers a white coating to create a traditional whiteboard or a clear solution that can be applied to any colored surface. Just choose your paint color and make sure that the wall is perfectly dry before applying ReMARKable.
Step 3: Measure Your Space
At ReMARKable, we want to offer you the best value product that is customized for your needs. Measure the whiteboard space you want and use that to determine how much ReMARKable you need to purchase.
Step 4: Create Your Whiteboard Wall
Ensure your surface is smooth, dry and dust-free and the ReMARKable kit contains all of the essential elements to make painting your wall a complete success. The kit comes with the solution, a roller, gloves and much more to make transforming your wall into a whiteboard an easy and enjoyable experience. If you want to see how simple it is, watch this how-to video.
How To Make Your Meetings More Productive With A Whiteboard Wall
Whiteboard walls are a powerful tool for any workspace in any industry. Whiteboard walls are a fantastic way to boost productivity in your meetings and to inspire your team to produce their best work yet.
Enjoy A Collaborative Space
Remove restrictive boundaries altogether with whiteboard walls that give your team more room to write. Using a whiteboard wall means all of the team can share their ideas and there is space for everyone to write. You can keep all of your ideas together without the frustration of having to rub out your notes as you go along for more space. Never lose your thoughts again!
Using whiteboard walls makes for a productive meeting as the environment now feels like a collaborative space, where people are encouraged to write down their ideas, get up from their seat and doodle their thoughts on the wall in front of the team. With a whiteboard wall, there is always a space available for mind mapping, brainstorming, doodling, and planning. People will get used to the environment and be more comfortable to get up and share their ideas.
With a whiteboard wall and a projector, your meetings save time and paper usage as everyone can see all of the visual aids at the same time. The projected images and notes can be annotated using the whiteboard wall, and there is no need to hunt around for paper and hand out information as everyone can see all of the information in front of them in one all-encompassing space.
The large surface area of a whiteboard wall means you can create sections and split your wall into all of the elements you and your team need to think about, this helps with visualization, and the notes can stay up for as long as you need. Having a large wall of whiteboard space means you can have a calendar, brainstorm, strategy, task list, and message sharing center all in one space. No need to wade through piles of emails to find all of the relating information. Having everything centralized and tangible makes it easy for people to update and visit the board boosting the feeling of teamwork and collaboration.
Encourage Interactivity
As well as enabling you and the team to visualize ideas, a whiteboard wall also encourages movement and interactivity in meetings, which is far more productive than those who just sit and listen in their seats. Whiteboard walls encourage discussion, engagement with colleagues and for people to physically take part in the session rather than feeling like an onlooker.
Helping your office achieve its paperless goal is much easier with a whiteboard wall. Whiteboard walls are completely reusable and reduce wastage, unlike using paper hand-outs. The walls also allow complete visual understanding and transparency, with all of the information laid for reference, it can help you and your team concentrate on one thing at a time.
Expand The Opportunities With A Smart Whiteboard Wall
While the possibilities for boosting meeting productivity with a whiteboard wall are already plentiful, your business can go the extra mile with a smart whiteboard wall. ReMARKable have teamed up with eBeam to bring you a smart whiteboard wall, complete with SmartMarker. The powerful combination not only allows you a huge and convenient space to boost productivity and creativity within the office it also allows you to capture, stream and sync your whiteboard content.
It can be a challenge when teams work in different offices, or in many cases, across the world, however, with a smart whiteboard wall, you can live stream your whiteboard and share the content with any device, allowing your whiteboard to be accessed from anywhere in the world. Applying Primer helps in sealing any breaks and cracks inside the walls which prepares the walls to be painted smoothly afterward for a clean finished look.
A smart whiteboard wall not only boosts your productivity in the office but allows you to retain all of your ideas on a device to suit you and share it with everyone that cannot access your meeting room in person. If you want to find out more about smart whiteboard walls, click here. With ReMARKable, meetings have never been so productive!